What's Going On at Bethany?
Elder Nominations - Congregational Meeting on December 5th
We are excited to come to you with an update on the men God has been raising up at Bethany to join the Elder Board. Members will be voting to affirm these Men as Elders during the Congregational Meeting during both services THIS SUNDAY December 5th. As we have before, this vote will take place electronically, so look in your inbox for a ballot.
The Elder board is excited to present Greg Chilcote and Bill Lenardson as nominations for first term Eldership. Additionally, Justin Jehn is nominated to continue in his role on the board for a second term. You can learn more about each by clicking below.
This Week's Announcements
I hope you're all having a great weekend! Let's see what's coming up at Bethany.
Due Back Next Week!
We have another amazing opportunity to help Marginalized Children this Christmas through the Giving Tree. We'll have many tags available in Third Place this Sunday that correspond to real children who have items they're hoping to get for Christmas. All you need to do is take a tag and sign up with the volunteer there, buy the listed gift, and return the gift by next week, December 12th.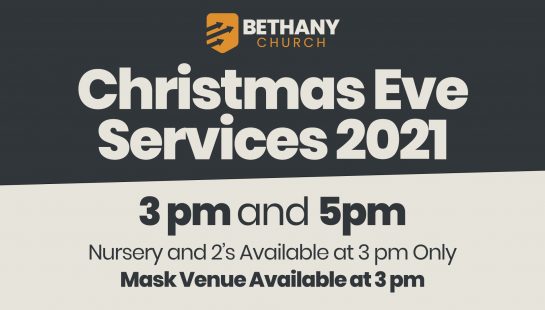 Christmas Eve Service Times
Merry Christmas! We're going to be having our Christmas Eve Services at 3pm and 5pm this year, with childcare available for Nursery and 2's during the 3pm service only. We'll also have a mask venue available in the Student Center at 3 pm. Let's celebrate the birth of our savior together!
Due Back Next Week!
Great job so far on our fundraiser to send our students to Districts! Bring back the M&M containers with your donations by next Sunday, December 12th. Don't forget to also be praying for the Student listed on the container!
All Upcoming & Current Events
We have lots of things going on at Bethany! Check out all we have to offer below.